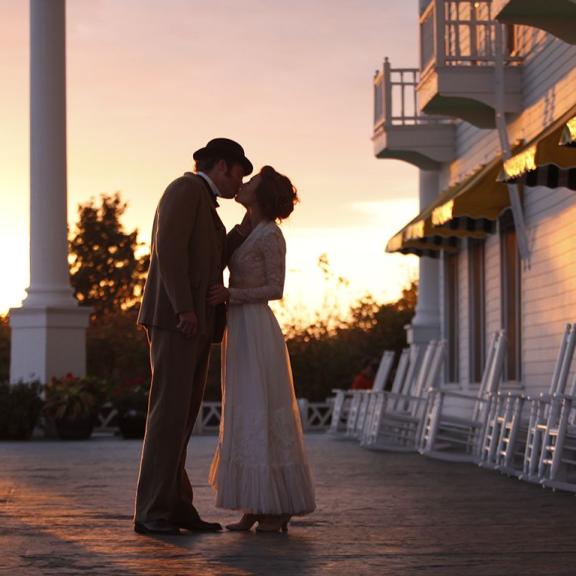 Arrive Friday, October 27 – Depart Sunday, October 29, 2023
Description
Each year, our Somewhere in Time Weekend is one of the most popular and special events during our entire season. It's perfect for fans who want to know the cinematic secrets of the timeless romantic classic, and a chance to visit with many people who played a role in the movie. You are invited to make a cameo appearance in costume at the cocktail receptions and costume promenade. Breakfast and dinner are also included daily, where guests may enjoy dining in elegant costumes in our Main Dining Room.
Raffle prizes include a stay for Somewhere in Time weekend 2024 as well as a Somewhere in Time trivia book. Proceeds of raffle ticket sales will support her Open Hearts Foundation.
Please note there will only be themed activities on Friday and Saturday this year.
Guests are invited to book and extend their stay through Sunday and experience a casual experience over our Close the Grand dates.
Package Includes:
Accommodations for two nights
Breakfast and dinner daily
All resort amenities
Friday and Saturday evening receptions
A special showing of Somewhere in Time  
Filming locations tour
Appearances by returning cast and crew members
Saturday costume promenade in the Parlor
Special discount on ferry tickets
Friday & Saturday night required
Book online or call Grand Hotel Reservations at 1-800-334-7263.
Watch our Resident Historian speak about Jane Seymour's visits to Grand Hotel.

Somewhere in Time cast & crew appearances by:
Cast:
Jane Seymour,  Elise McKenna
Sean Hayden, Young Arthur
Kelly Penn, 1912 extra
Crew:
Jeff Gourson, Film Editor
Mary Ann Biddle, Set Decorator
John Unsinn, Boom Man
Michael Orefice, Electrician
Dan Dewey, Production Assistant and Location Manager
Somewhere in Time
Filmed at Grand Hotel and on Mackinac Island in 1979, and released in 1980, Somewhere in Time stars Jane Seymour, Christopher Reeve, and Christopher Plummer. Learn more about Jane Seymour's 2019 visit, highlighted on MLive.com.
Open Hearts Foundation
Co-Founded by Jane Seymour, the Open Hearts Foundation has been shoulder to shoulder with those experiencing adversity, providing many forms of support and inspiration. At the heart of the Foundation's mission is the Open Hearts Philosophy that in times of great challenge, one must accept it and reach out to do what they can to help others. In doing this, they can find purpose and live with an open heart. The Foundation fulfills its mission and has a deep commitment to serve through its two programs: a grant making program and the Young Hearts Volunteerism program. These two programs directly align with the Open Hearts Philosophy because we can all do something to help. Whether big or small, a generous donation or volunteering a skill set or time, we all have a role to play in lifting others up, inspiring those around us, and doing what we can in the face of adversity. The Foundation has provided more than $1.4 million to emerging charities throughout the United States in its grantmaking history and has engaged thousands of volunteers across the globe to do what they can to help and find their unique purpose. The Foundation is a small, public, 501(c)(3) foundation with an enormous mission, supported by creative, like-minded people working together for the greater good. Everyone is invited to join the Open Hearts movement! www.OpenHeartsFoundation.org
View Grand Hotel Policies and Information >>
*Subject to Michigan 6% sales tax, 3% Mackinac Island assessment, and a $12.00 per person, per stay, baggage-handling charge. Regular children's rates apply. Extra charges apply for additional adults over double occupancy rates. Dates are subject to availability. A 30-day cancellation policy applies.
<>
Visit Grand Hotel Website >>>>
<>
Video From 2007 Somewhere In Time Weekend… (via MLive.com)
Fans of the 1979 movie "Somewhere in Time" flock to Mackinac Island in Michigan on this special weekend in October. …
<>
Somewhere In Time Filming Locations on Mackinac Island
<>
Visit Grand Hotel Website >>>>
<>