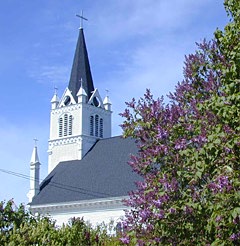 The Mackinac Island Lilac Festival is a 10-day celebration, June 7 through 16, 2019. It's the first and largest summer event on the Island, attracting thousands of visitors. Festivities include the coronation of the Lilac Festival Queen and Court, Lilac Festival 10K Run/Walk, horse drawn carriage tours, numerous concerts, wine tastings, A Taste of Mackinac Culinary Event, Mackinac Island Dog and Pony Show, the Lilac Festival Grand Parade and so much more.
Featured Events
Lilac Festival 10K • Run/Walk
Saturday, June 8, 2019 • 9:30 a.m. • Windermere Point
A great Spring morning race on Mackinac Island. Each year, over 700 participants travel to the island to take in the early season beauty. The course will provide you with beautiful sights of the island. This is certainly a race you don't want to miss!
Register for all three races by July 31 and receive a special Mackinac Island Trio Series medal. This will be a seperate medal from the other finsher's medals you will receive at the completion of the races, and will only be awarded following the Great Turtle Half Marathon. For more information, visit www.runmackinac.com.
Lilac Festival Queen Coronation
Saturday, June 8 • 5 p.m. 
The Lilac Queen has been an important part of the Lilac Festival tradition since it began in 1949. The Lilac Queen is selected by the students from their classmates at Mackinac Island Public School. It is to honor the student who has dedicated their time to their classmates and community events throughout the year. Her duties include opening Fort Mackinac, welcoming guests to A Taste of Mackinac, riding in the Lilac Festival Parade and making appearances at many community events for the year of their reign.
A TASTE OF MACKINAC
Thursday, June 13 • 11:30 a.m.
Mackinac Island's most anticipated culinary event. This award winning luncheon also features products from Coca Cola, the official soft drink of the Mackinac Island Lilac Festival along with Michigan Beer & Wine selections. The event will take place at the Mackinac Island Community Center on Market Street. Tickets are now on sale, online only! To purchase tickets for this event, please click here.
Dog & Pony Parade
Saturday, June 15 • 11 a.m.
This zany parade featuring costumed pups and ponies is a blast.  The parade takes place on the boardwalk from the Mackinac Island Public School and ends at Windermere Point.
Lilac Festival Grand Parade
Sunday, June 16 • 4 p.m.
Celebrating Mackinac's lilac collection began in 1949. The idea was to bring people to the Island to enjoy a great horse drawn parade amidst the lovely lilacs that fragrance the Island in June. What began as a one day event called the Mackinac Island Lilac Day has blossomed into a ten day festival.
This year theme is Mackinac Island! A team of judges votes on all parade entries with this theme in mind as well as other criteria for selecting those who will receive the coveted parade trophies.
<>
Visit Mackinac Island Lilac Festival Website >>>>
<>
While you wait for the 2018 Lilac Festival, here's a view of some of the early summer flowers adding their color and beauty to the month of June on Mackinac Island.
Lilacs in bloom on Mackinac Island – Click photos for slideshow view.
<>
Visit Mackinac Island Lilac Festival Website >>>>
<>