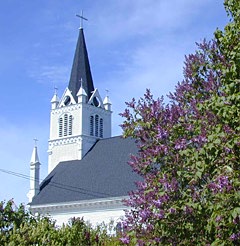 Due to the unfolding global health crisis caused by COVID-19, select events scheduled as part of the 72nd Annual Mackinac Island Lilac Festival, to be hosted June 5-14, 2020, have been canceled.
The Mackinac Island Lilac Festival is a 10-day celebration, June 5 through 14, 2020. It's the first and largest summer event on the Island, attracting thousands of visitors. Festivities include the coronation of the Lilac Festival Queen and Court, Lilac Festival 10K Run/Walk, horse drawn carriage tours, numerous concerts, wine tastings, A Taste of Mackinac Culinary Event, Mackinac Island Dog and Pony Show, the Lilac Festival Grand Parade and so much more.
<>
The headlining events that have been canceled include the Lilac Festival Grand Parade and Mackinac Island Dog and Pony Show, as these events require large gatherings of people, which would violate the important social distancing guidelines issued by the Centers for Disease Control and Prevention.
While select events have been canceled, a number of community-based events will remain, including the annual Lilac Queen Coronation. The annual Lilac Festival Poster contest is still on—upholding the tradition of the winning poster being available for sale in stores throughout the island. Additionally, the planning committee is developing several virtual events for fans from around the world to take part in the 72nd Annual Lilac Festival.
<>
Lilac Festival Grand Parade – Cancelled for 2020
Cancelled for 2020 • Main Street
Celebrating Mackinac Island's lilacs began in 1949. The idea was to bring people to the island to enjoy a great horse drawn parade amidst the lovely lilacs that fragrance the island in June. What began as a one day event called the Mackinac Island Lilac Day has blossomed into a ten day festival.
The parade theme for the 2020 Lilac Festival is History of Mackinac Island. A team of judges votes on all parade entries with the parade theme in mind as well as other criteria for selecting those who will receive the coveted parade trophies.
<>
Visit Mackinac Island Lilac Festival Website >>>>
<>
While you wait for the 2018 Lilac Festival, here's a view of some of the early summer flowers adding their color and beauty to the month of June on Mackinac Island.
Lilacs in bloom on Mackinac Island – Click photos for slideshow view.
<>
Visit Mackinac Island Lilac Festival Website >>>>
<>