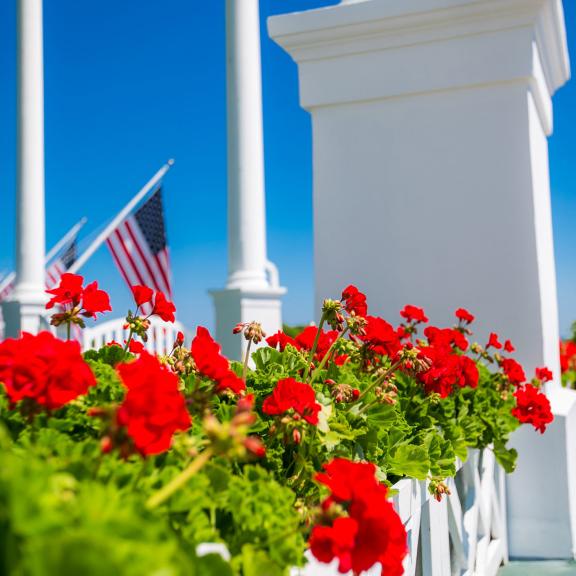 Available beginning Friday, May 26, 2023
Description
For something different, something fun, come celebrate Memorial Day Weekend at America's Summer Place! Explore the historic landmarks and natural beauty of Mackinac Island, enjoy the tradition of Afternoon Tea in the Parlor and nightly live musical entertainment, kick back and relax in a rocking chair on the World's Longest Porch, and be one of the first guests to dive into the Esther Williams Swimming Pool in 2023.
Package Includes:
Grand Hotel Accommodations
Breakfast and dinner daily
Family movie night
History Lecture by Resident Historian, Bob Tagatz on Saturday morning
Grand Hotel Ice Cream Social on Saturday
Saturday and Sunday evening receptions
Saturday evening "Meet the Hackneys of Grand Hotel"
Complimentary admission to the Richard and Jane Manoogian Mackinac Art Museum
Special discount on ferry tickets
Grand Hotel. Where you just need to be Memorial Day Weekend.
Memorial Day Weekend reservations are also available by calling Grand Hotel Reservations at 1-800-334-7263.
View Grand Hotel Policies and Information >>
*Subject to Michigan 6% sales tax, 3% Mackinac Island assessment, and a $12.00 per person, per stay, baggage-handling charge. Regular children's rates apply. Extra charges apply for additional adults over double occupancy rates. Dates are subject to availability. A 30-day cancellation policy applies.
<>
Visit Grand Hotel Website >>>>
<>
<>
Visit Grand Hotel Website >>>>
<>