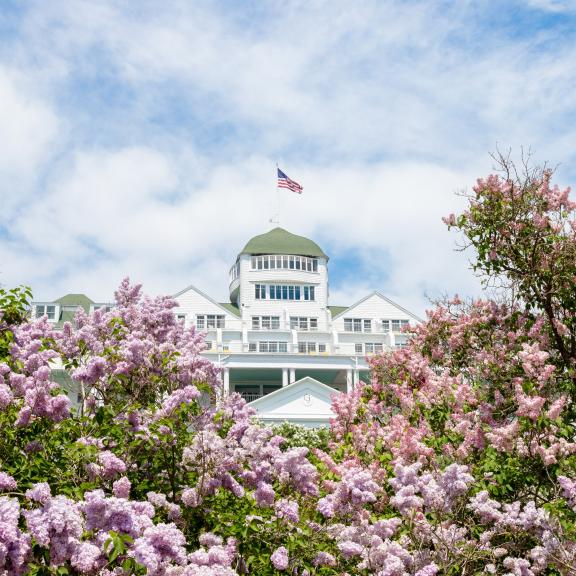 Arrive Friday, June 16 • Depart Sunday, June 18, 2023
Description
Something different, something traditional: Join us for Mackinac Island's 75th annual Lilac Festival! Since its inaugural event in 1948, the Annual Lilac Festival on Mackinac Island has grown into a 10-day festival held in honor of the flower for which the Island is renowned. The lilac is a spectacular variety with a distinct history. In fact, some are more than 200 years old.
We invite you to celebrate and experience the splendor of the lilac, while they are in bloom throughout the Island.
Package Includes:
Grand Hotel Accommodations
Breakfast and dinner daily
All Grand Hotel Amenities
Grand Hotel History Lecture with our Resident Historian, Bob Tagatz
Garden Tour
Saturday evening Lilac Reception
Special amenity
Complimentary admission to the Richard and Jane Manoogian Mackinac Art Museum
Special discount on ferry tickets
This Grand Hotel Lilac Festival Package is available to book by calling Grand Hotel Reservations at 1-800-334-7263.
With our Grand Hotel Lilac Festival package, you'll enjoy a garden and lilac tour given by a member of the Grand Hotel gardening staff. Meander through the Grand Gardens and learn all about the varieties and work that goes on behind the scenes. Guests will also learn the history of Grand Hotel while attending a History Lecture with our Resident Historian, Bob Tagatz.
Enjoy all activities happening around Mackinac Island. Some of the featured events include the Lilac Festival Parade, featuring Mackinac Island Businesses and Community Members, the Lilac Festival 10K run/walk, Coronation of the Lilac Festival Queen, and the Mackin-Paws Parade. For more information about the Mackinac Island Lilac Festival and schedule, please visit the Mackinac Island website.
View Grand Hotel Policies and Information >>
*Subject to Michigan 6% sales tax, 3% Mackinac Island assessment,19.5% resort fee and a $12.00 per person, per stay, baggage-handling charge. Regular children's rates apply. Extra charges apply for additional adults over double occupancy rates. Dates are subject to availability. A 30-day cancellation policy applies.
<>
Visit Grand Hotel Website >>>>
<>
<>
Visit Grand Hotel Website >>>>
<>