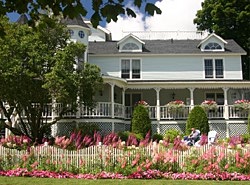 Metivier Inn opens for the 2021 season on May 13, 2021 and closes on October 23, 2021.
• Rates based on single or double occupancy, up to quad occupancy for the suite and two-queen room
• Subject to state tax, hotel service charge and tourism assessment fee
• Call (906) 847-6234 or Visit Metivier Inn's Specials Page >>>>
Metivier Inn
P.O. Box 285
7466 Market Street
Mackinac Island, MI 49757
866-847-6234
Metivier Inn On Facebook
Below are the latest postings from the Metivier Inn Page On Facebook.
<>
<>
Visit Metivier Inn on Facebook >>>
<>
Visit Metivier Inn Website >>>>
<>