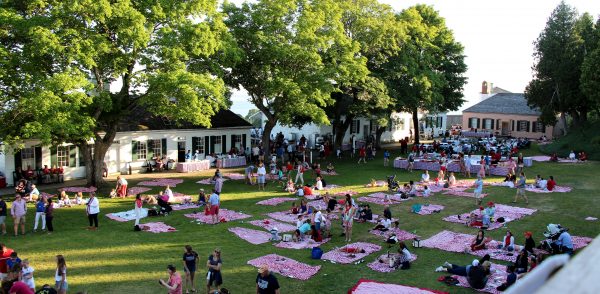 Checkered red and white tablecloths spread on the grass of Fort Mackinac's parade grounds create a patchwork quilt welcoming hungry patriots with Grand Hotel's all-you-can-eat tangy BBQ baby back ribs, grilled chicken breasts, hamburgers, hot dogs, turkey burgers, corn on the cob, and a slew of salads, fixings and desserts. Stay for the fireworks!
An American Picnic at Fort Mackinac
Presented by Grand Hotel
Tuesday, July 4, 2018
6:30 p.m. to Dusk
Featuring:
GRILLED HOT DOGS
HAMBURGERS
BBQ BABY BACK RIBS
GRILLED CHICKEN BREASTS
CORN ON THE COB
PASTA SALAD, COLESLAW, RED SKIN POTATO SALAD
CORN BREAD, POTATO CHIPS
BAKED BEANS
WATERMELON SLICES
FULL DESSERT BUFFET
ICED TEA, LEMONADE, MILK
Beer, wine and soft drinks available for additional charge.
All Fort Mackinac buildings will be open and a program of patriotic music will be presented.
Tickets are nonrefundable if event is cancelled due to inclement weather.
Advance tickets will go on sale in June and will be available at Grand Hotel, Fort Mackinac, and Mackinac Island State Park Visitors Center. Ticket includes fort admission.
<>
Visit Mackinac Island State Park Website >>>>
<>