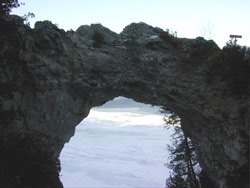 Rising 146 feet above the water, Arch Rock is a natural curiosity which spans fifty feet as its widest point.  It was formed over thousands of years by wind and water eroding soft rock below, leaving only the hard breccia rock which forms the arch.
East side of island near the shoreline, Located by taking Lake Shore Road, Arch Rock Road, Arch Rock Bicycle Trail, or Huron Road
Arch Rock via Wikipedia
Arch Rock is a geologic formation on Mackinac Island in Michigan. It is a natural limestone arch formed during the Nipissing post-glacial period, a period of high Lake Huron levels following the end of the Wisconsin glaciation. To this day Arch Rock stands on the Lake Huron shoreline 146 feet (45 m) above the water.
Limestone breccia is not an ideal material for natural bridges, and this type of formation is quite rare in the North American Great Lakes region. The Native Americans saw Arch Rock as a place of numinous power, and told many stories and legends about it. >> Read More on Wikipedia >>
Arch Rock – Top Twelve Photo Opps on Mackinac Island
(Click open comments below for more Arch Rock photos.)
<>
<>
Arch Rock On Mackinac Island – Photos From Instagram
Here are the latest photos of Arch Rock via instagram. If you have an instagram photo to share of your visit to Arch Rock, choose "Arch Rock" as your location and your photos will appear in the photo stream below.

This error message is only visible to WordPress admins
Error: No feed type selected. Please use a feed type of "user", "hashtag", or "mixed".
<>
<>
Arch Rock & Mackinac Island Natural Wonders – Mackinac Island State Park >>>>
<>